July 26. I got harrassed for not posting to the RoxyLog frequently enough.
I've been busy, to be sure, but to all appearances, Roxy has been even busier. Today, Rosemary discovered that Roxy has been plotting a takeover.
This photograph is conclusive evidence that Roxy has been massing her supporters in a nefarious scheme for total world domination.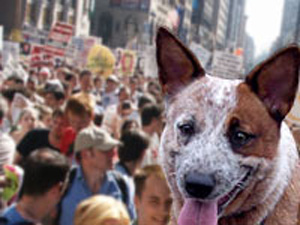 Roxy Plots World Domination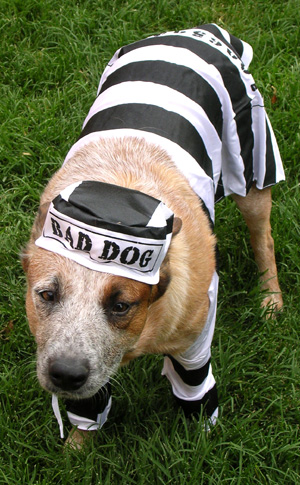 The Wages of Sin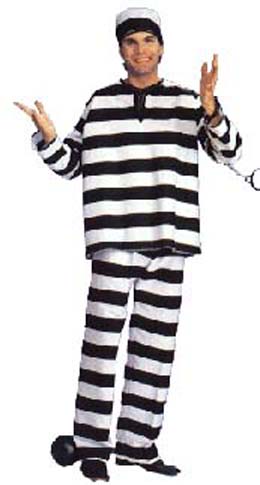 Jul 11. It's pretty sad when you start planning for Halloween in July.
An Internet friend from New Zealand was razzing me pretty heavily about dressing my dogs up in costumes.
That got me to thinking about some costumes I wanted to try out for the RoxyLog. I was especially interested in matching dog/human costumes.
I found this dog prisoner ensemble and decided it would make a nice pairing with the human prisoner costume which is available from a number of stores.
Another option is the Elvis Jailhouse Rock prisoner costume.
Tonight, we had a "substitute teacher" for Obedience II. This is the same one who never answered my emails over the last six months. You can imagine how that went.
Recall that on Thursday, I was at a seminar. Our lunch assignment was to find two identical toys, so we could work on a focus game in the afternoon. I wasn't sure what would work for Roxy, so I got
We used the kangaroos at the seminar, not that it worked particularly well. One thing that helped was to "hang" the kangaroos on a leash and drag them around, which stimulated some interest on Roxy's part.
As per the instructions, we left the Hide-a-Squirrel in the dirty laundry hamper overnight, and this morning, took it out for Roxy to play with. Annie and Dylan were locked up, and Annie was particularly indignant that Roxy Was Not Doing It Right.
Roxy had a good time, as you can see.
Then, we went by to see if the Ogden Farmer's Market has begun for the year; it hasn't. We continued down to Midvale to meet up with our online friend Kay Bedeau, who was judging a UKC obedience trial, then a couple of miles south to Sandy, where a USDAA agility trial was going on (I forgot to mail in my entry). All this was good for Roxy, because she got to experience lots of people, dogs, and places.
Plus, we got a good picture of a traffic sign I had been meaning to capture on pixels. Native Utahns don't fully appreciate the humor in signs like this. (Even though in the rest of the world, a "gentile" is a non-Jew, in LDS culture, a "gentile" is any non-Mormon.)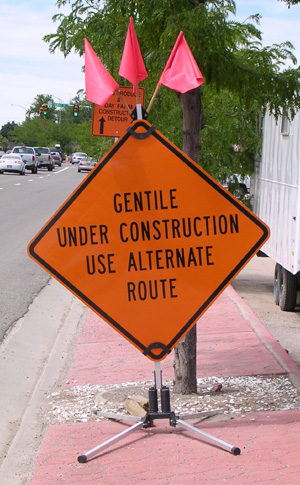 Gentile Under Construction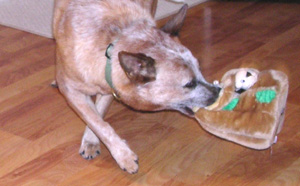 "You're Goin' for a Ride, Squirrel!"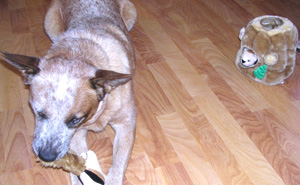 Sammy Squirrel Looks on in Horror as
Sally Squirrel's Tail is Amputated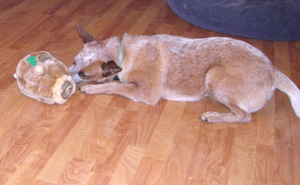 "Come Out and Play!"
July 6. Even though the pictures below were taken in last week's obedience class, I just now got around to downloading them. So here they are.
Lots going on around here. This morning, an Op-Ed piece I wrote for the Ogden Standard-Examiner was published.
Roxy and I attended a seminar by Unnamed Prominent Agility Handler. It was all right, I guess, but there was a little too much "Why I Am a Prominent Agility Handler" and too little actual agility handling. I think we got some good ideas for our continuing In Focus training.
I realized last night that I had not sent in my entry for the agility trial this weekend, so I suppose we won't be going. Just as well, as I have a lot of work backed up, and Roxy needs a lot of low-stress trial experience. If I go to AKC trials, and I enter her in Novice B, there is no chance of her getting a qualifying score towards a title, since she has the title already. I'm hoping that'll reduce my stress level enough that she relaxes as well. I have to say that this has been about the most frustrating period in agility training I've ever experienced. I don't feel like Roxy is having much fun, and that tears me up.
I made reservations at Ruffledale for the August trips we are taking.