July 10, Sandy, Utah (Jim). Annie feels much better today: she got to attend an agility trial. Wasatch Agility was having a USDAA trial in Sandy, so we headed down so I could work and hang with my peeps. It's all good. I bought Annie a tennis ball tug toy and she got swung around and yanked and I threw it for her and we walked around and said hello to everyone and it was generally fun times. So now she is resting peacefully in the kneehole of the desk as I type this. She was so tired that she was resting her chin on my hand while I was trying to shift gears in the car on the way home.
July 9, Ogden, Utah (Jim). See, I promised Annie after the Continental Divide pictures that there would be no more Pioneer Annie photos. She was sorely pissed at having to wear that stupid bonnet (no matter that it's called a 'Poke Bonnet' and she is 'Poke Salad Annie'). I swore that if she just maintained for the Continental Divide photo, that I would lay off the stupid Pioneer Annie pictures.
Then, near the house, this wagon appeared to promote Ogden's upcoming Pioneer Day festivities.
(For non-Utahns, or those who aren't even sure what happened to the vowels in 'Utahn', Pioneer Day commemorates the arrival of Brigham Young's party through Emigration Canyon. I think it should be called 'Immigration Canyon', but I digress. Pioneer Day is traditionally July 24 but that falls on a Sunday this year, so we are celebrating Pioneer Day on the 25th.)
So, Annie was subjected to one more set of Pioneer Annie pictures. It's the last group, I swear. Really.
Annie has been fairly glum. She's never moved before, and she's not sure what caused all this disruption in her world. Worst, she has no minions to subjugate. She perked up a little when we went out to Weber's Animal Day this morning. She got to do the out and back on the catwalk thing, so it stimulated her latent Doggie Supermodel juices. But what really made her Saturday worthwhile was finding that a bucket of toys had followed her 1900 miles to Utah. Oh Bliss! Tonight, she got to play with the glow-in-the-dark ball.
After the pictures, we went out for a drive as I had a couple of short errands to run. It's traditional for me to get totally lost after moving to a new city, and I carried out that tradition. The bad news was, we ended up in Fruit Heights and Kaysville when we wanted Layton. The good news was, that Kaysville has a burger joint named "Dylan's" with a little train engine logo. So it made the RoxyLog.
Imagine my surprise and disgust when the Miss Clinton pageant was cancelled tonight. I made it all the way out to Roy High School, home of the Roy Royals, and I even asked for directions which of course diminishes me as a man. (I was looking for the Large Auditorium and I only found the baseball diamond, so Coach Randall pointed me in the right direction. Coaches are still very large men who can break you in half, even when you are 29 years past high school.)
If anyone knows where I can get a "Utah...but I'm taller" t-shirt, please let me know. I struck out on a Google search.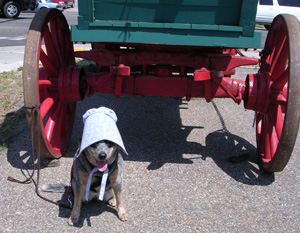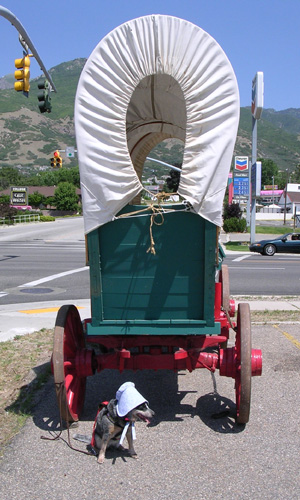 Pioneer Annie Finds Her Wagon,
Already Painted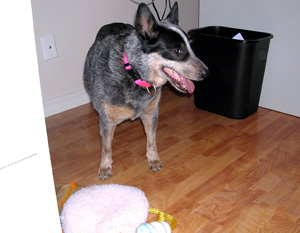 Paradise Found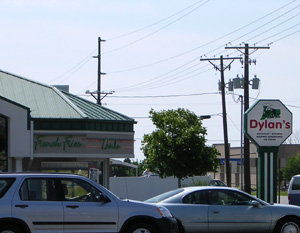 Dylan Owns a Burger Joint
July 7, Ogden, Utah (Jim). It's taken a while, due to a lack of Internet access (don't ask), but here are the pictures from the last leg of the trip.
Yesterday morning, Annie went into one of the spare bedrooms and started barking wildly. Thinking that some intruder had arrived, I went in to see what was the matter. It was a pair of ski gloves. It seems she had mistaken the gloves for a huge black spider and was protecting me from this Evil Foe.
Annie was bored most of the trip, but did get excited when we pulled into the driveway of her new home.
We marked the crossing of the Great Divide (see song references in last month's Roxylog) by taking a final Pioneer Annie photo, with poke bonnet. A little-known geographic fact: I-80 actually crosses the Continental Divide twice. The divide splits and forms a Divide Basin through southern Wyoming. I didn't think Annie would sit still for two Great Divide photos, so we took just the one.
Before that, we stopped at a wind farm halfway between Rawlings and Laramie while Annie pondered a career change.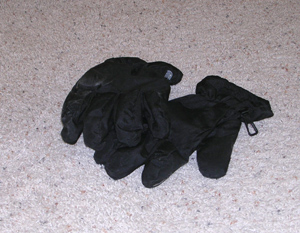 Evil Black Ski Gloves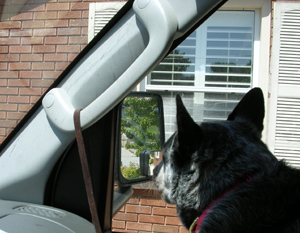 This Is the Place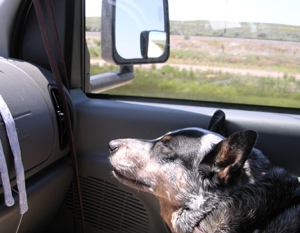 O Bored Pioneer! Day 4:
Annie Catches a Cool Breeze from the A/C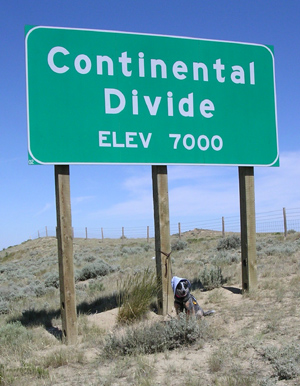 Pioneer Annie Astride the Divide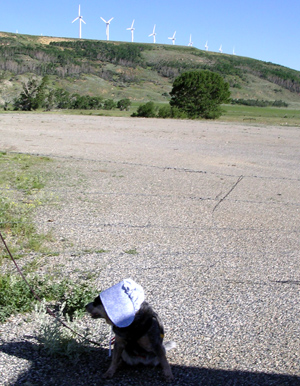 Pioneer Annie Considers Wind Farming
July 2, Lakewood, Colorado 9 pm (Jim). Pioneer Annie and I made it to the Denver area about 5:30 pm. Crossing the Kansas prairie was both boring and terrifying. There was a lot of wind and the truck got kicked around a good deal. The gas mileage is hideous — between 7 and 9 mpg depending on whether I am climbing hills or not. It's not fast, either. True, I'm making frequent stops to take pictures of Pioneer Annie, but we are taking about 12 hours to make drives that normally can be done in 8 hours. I will have to adjust my departure time on Tuesday to make sure I reach Weber before close of business.
The next two days and three nights will be spent here in the Denver area where I grew up.
At about 5 pm, we made it to Castle Rock, Colorado, and Pioneer Annie posed for yet another picture in front of the titular rock.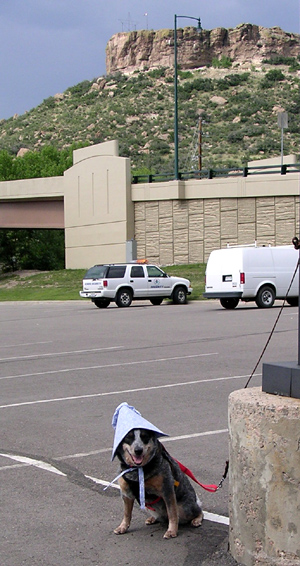 Pioneer Annie Discovers Castle Rock
July 1, Topeka, Kansas (Jim). Annie is bored with the Pioneer Life. She has given up on her struggle with The Evil Seat Belt Harness, and now is trying to rest up for the trip. She started laying her head on the center console, the better to get a cool breeze from the air conditioning vent. So I cleared off all my stuff and put a towel down for her as a pillow for her chin.
Nothing of note happened today, except that I have 800 miles of the 1800 mile trip knocked off. I stopped at a Wal-Mart in Cape Girardeau, Missouri for some pioneer supplies (a favorite bumper sticker of mine: "Mall-Wart: Your Source for Cheap Plastic Crap"). Wow, that is a weird weird town. What a benighted place. Not as peculiar as Peculiar, Missouri, but awfully close. The guy at the sporting goods counter took umbrage because I made note of the knives with "assisted opening" blades. I told him in my day, we called those switchblades. He said, "they're not technically switchblades", although he could not articulate the exact difference. So we agreed to disagree.
July 1, Jackson, Mississippi (Rosemary). Without Pioneer Princess Annie around to keep everything running PROPERLY, Roxy has quickly started to copy Dylan's sleeping habits.
June 30, Blytheville, Arkansas (Jim). Pioneer Annie and I set out about 2 pm. There was a delay while I looked up and down the truck before even leaving Jackson; I heard some sort of rubbing noise and I couldn't figure out what it was. Turns out it was the mudflaps, which were relatively new and dragging on the pavement. I did find a set of Vice-Grips someone had left in the wheel well.
I was about 10 miles downrange when I figured out I had loaded Annie's Cabana Crate (collapsable travel crate) in the front of the cargo area by mistake. I also forgot to take my sunglasses in the cab with me. So, I pulled over in lovely Vaughan, Mississippi, got the sunglasses (which were in back, near the door, where I had left them) and climbed to the top of a stack of boxes and such and began body-surfing the narrow space between the roof and the cargo. Finally, I got to where the Cabana Crate was located (lucky me! I remembered its location!) and pulled it out. That was the most exciting thing that happened so far.
Annie loves to let the air conditioning blow in her face while she rides with her seat belt on. Jim has his iPod, so they are both happy on the drive. We share snacks; Annie especially likes carrots.
Before we left, we found a huge Manduca moth on the wall of the carport. It must be some kind of portent, although I don't know of what. For size comparison, note the ladybug on the right.
We are spending the night here in Blytheville, on I-55 north of Memphis. It's about 5 hours north of Jackson. Tomorrow night, we'll be in Topeka. This motel has wireless high-speed internet, so I can upload and post my pictures from the trip so far.
June 30, Jackson, Mississippi (Rosemary). This morning, we loaded a Budget 15' rental truck for Jim and Annie's trip to Utah. First on was agility equipment from the Dog Wash field, followed by household and office goods. Dawna, Erin, and Jesse Cox came by and helped.
Fortunately, Jim got the one Ford truck on the lot with a cab just like our own van, so he won't have to hunt for the headlight and wiper controls. Just as we were about to collapse from hauling boxes, Kathy and Jenise came over from Jim's office to say goodbye to Annie and Jim. This gave us a great excuse to sit down for a little while. They also got to see Roxy and Dylan play Boomer Ball. Jim burned enough calories hauling and lifting boxes that he was able to spring for a WhataBurger for lunch. Their motto is "There's one near you", but we don't know if that means they're in Utah or "If you're reading this there's obviously one near you." Jim LOVES WhataBurger.
After lunch, Jim and pioneer Annie put their seatbelts on and headed off for the far West. Annie was awfully glad to ditch the sunbonnet so she could get down to the business of riding shotgun.
June 30. The RoxyLog has two parts now. I will contribute my posts from the road, and from Ogden when I get there; Rosemary will publish to the page from Jackson. Each will be datelined (i.e., have a place name), and mine will be in Arial (this font), while Rosemary's will be in Times Roman.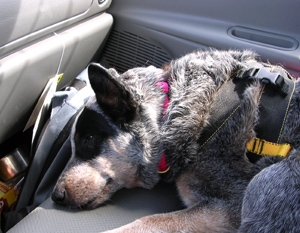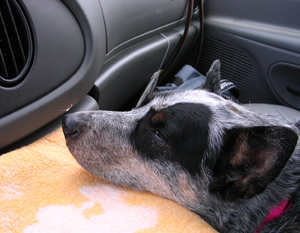 O Bored Pioneers!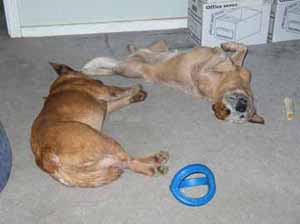 Standards slip in Annie's absence.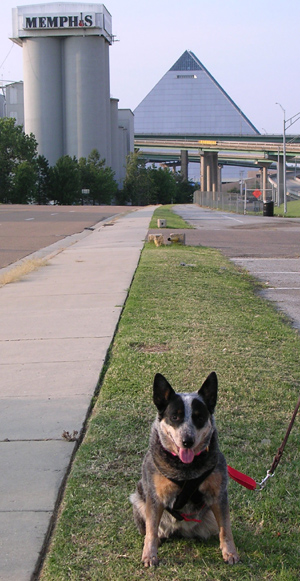 Pioneer Annie Crosses the Mississippi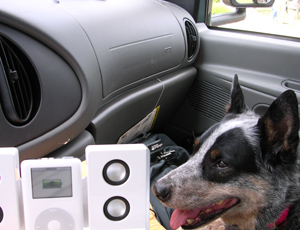 Pioneer Annie Has All the Comforts of Home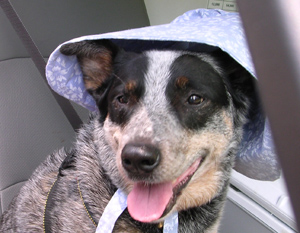 Pioneer Annie Prepares to Leave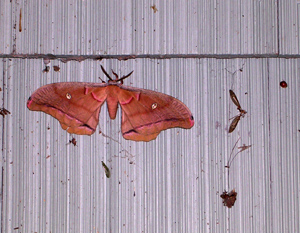 Portentious Moth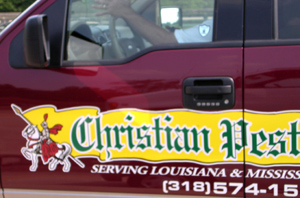 A Uniquely Southern Problem
(actually, Rosemary took this on our trip back from the agility trial in Monroe, Louisiana last Sunday)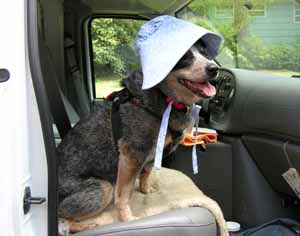 Pioneer Annie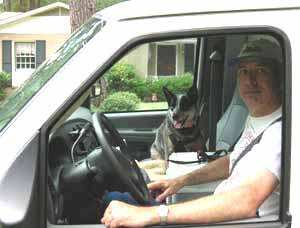 Pioneer Annie and Trucker Jim