Feb 25. Rosemary is out of town, so of course Roxy chooses this time to go into season. We had been seeing the signs for several days. Today, the discharge started. Time for Roxy to go back into panties, but at least it helps with the house training.
Feb 16. Down goes the A-frame. Yesterday, we set it up at under 5 feet at the apex. Today, Wednesday, it went up just one link. Roxy is doing a pretty good rock-back on the contact, so we will keep ooching it up until it gets to full height or until we lose the rock-back position. We need to get the A-frame for the backyard fixed. Progress with A-frame retraining: if you care.
Feb 13. Back from Kiln. Nothing exciting to report from today's three runs. We came close a couple of times but just didn't get any further.
The ever-cool Tracey Roth reminded me to revisit the 2005 Training Goals outlined in last month's RoxyLog:
Roxy and I will earn the NA in AKC Novice agility during 2005, and continue competing in Novice until she consistently has clean runs at that level.

Not yet. We did knock off one more NAJ leg in January. One more NA and one more NAJ leg to go.
Roxy and I will earn the Rally Novice title in AKC Novice Rally Obedience.
Roxy and I will compete in Novice B obedience, earning at least one leg.

Haven't competed yet, haven't set a date. Maybe May, definitely October at the ACDCA National Specialty.
Roxy and I will earn at least one Standard leg and two games legs in USDAA Agility.

Got the first games leg

(Snooker, to my surprise — thought it would be Gamblers). Came close on the standard and the other games leg.
Roxy and I will train in agility at least three times a week.
Roxy and I will train in obedience at least three times a week.
Feb 11-12. Trial weekend in Kiln, Mississippi. Friday, we got up at 4 am to drive down and Roxy got her third and last measurement, so we can get her permanent card now. We're still having A-frame problems, but I have some ideas how to fix them and now I have something to work on when I get back home. Something changed in Roxy; she used to have such a good "rock-back" on the A-frame, even at full height but now she perches at the top, and is clearly having trouble stabilizing herself on the way down. Maybe she gained some weight, and muscle mass, in her front assembly or maybe she just forgot. When I get home, I need to skin the A-frame, fix it with a new skin, then start in practicing with her again. Friday we came close a couple of times — Rosemary and Dylan were our partners for Starters Relay and a miscommunication resulted in a missed leg — but no cigar. Dylan just missed the Agility Dog title he's been trying to finish since March 2003.
Saturday, we started off with Snooker and Roxy got her first USDAA leg with a score of 37, exactly what she needed to qualify. It wasn't pretty, there was way too much running around, but it was a Q. Jumpers was not bad, but she spent way too much time visiting and checking out the world, and she got distracted and took out a pole she was supposed to jump so we were 9 seconds over and one pole short. In Gamblers, we came really really close. I always knew she would make a great Gamblers dog because her obstacle focus is so strong. But things got crosswise, and we were one point short on our opening. The Joker was hard, but we got it and so we were one jump short of qualifying there too. In Standard, the A-frame problem came up to bite us: a clean run, well under time, except for missing the down A-frame contact with a launch from midway.
Saturday's big news was Dylan's Agility Dog title. I took him in Gamblers earlier in the day, hoping to finish his Starters Gamblers title, and although we had a nice run and a good weave pole practice the way we planned, I set him up wrong for the Joker and so he didn't do it. The weave pole practice paid off in Rosemary's Standard run (she only lacked this one Standard leg on the title), and he ran very well for her, more than 15 seconds under standard course time and clean. So now you may call him Dylan AD. We have to decide whether to leave him in Starters games or move him up, and Sunday's Standard run will be for fun, although the Relay run will be for real this time.
This new motel we're trying has high speed internet access, so I am able to update the RoxyLog on the road — a first.
Feb 6. Another nice day, weather-wise, so we headed over to the agility practice field for — you guessed it — agility practice. Roxy has been losing her control over the A-frame, which has led to missed contacts, so we've been working on getting her to shift her weight back into her hindquarters and abdomen. I think she's relearning it now. Next weekend, I have her in USDAA Championship, so instead of a 5'6" A-frame it'll be the 6'3" A-frame, so it's important that she master the skill for the steeper incline.
We also worked the classic tunnel / dog walk trap, and I was pretty proud of Roxy. She got it most of the time and I got to practice some handling moves. We did jump boxes and weaves as well. All in all, a pretty good practice session.
While we were there, we got in some "stay" practice. I have her clocked at about 30 seconds on the sit-stay, so that's what we'll build from. I haven't worked the stand-stay in a while. I decided today to aim for a May obedience debut, since I am planning to take Annie to the Rally-O! trial in Tupelo and I can bring Roxy along too for her obedience. Annie is ready for Advanced Rally. Speaking of Rally, it looks like Annie and Roxy are the 6th and 7th Australian Cattle Dogs to earn the Rally Novice title.
Feb 5. Roxy caught three marshmallows in a row today. Rosemary had the idea of getting all three of the cattledogs into a competition for marshmallow catching. My way of doing it was to call the dog's name, then toss them a marshmallow. "Roxy...Dylan...Annie". Sure enough, after about a dozen misses, Roxy started to get the hang of it. She has become a Master Marshmallow Catcher.
Roxy apparently snuck out last night for a little "herding" practice. See story here.
Feb 3. We are all going stir-crazy after a straight week of rain. No agility practice, not much home manners practice (although Roxy and I did some stays this morning). Everyone wants to get out and run around, but the weather is just plain icky. It's neither cold enough nor warm enough to be fun.
So, what to do? Have a little marshmallow catching practice.
Now, of our four dogs, Annie and Dylan are pretty good at catching stuff. Roxy and Kodi, on the other hand, suck really badly at it. So that's how Roxy and Kodi got paired up.
As you can see, they didn't make much progress at catching marshmallows, but it's okay. When the marshmallows hit the floor, they get eaten. End of problem. Who needs to catch stuff, anyway?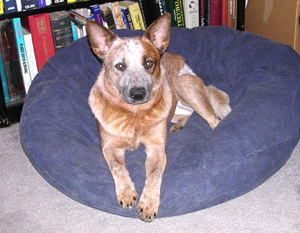 Aw, Dad, Not These Stupid Panties Again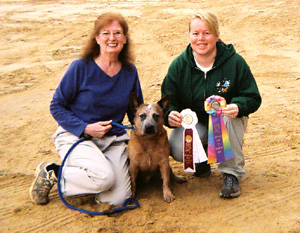 Rosemary, Dylan AD, Peggy Hammond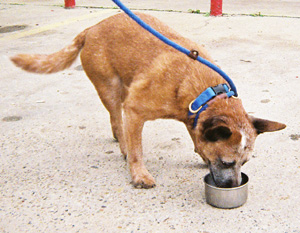 Dylan Enjoys His AD and His Sardines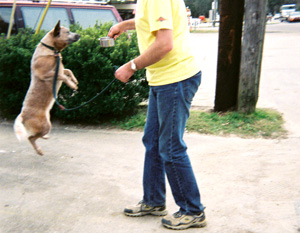 Roxy's Air Leash is Sardine-Activated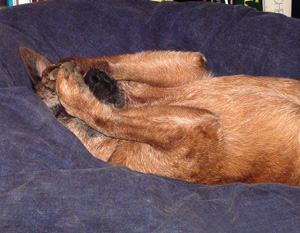 Dylan Can't Bear To Watch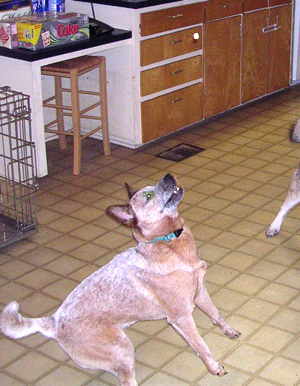 Feb 1. Rain, rain and more rain, so no outside training. If you're a regular visitor, you know to click on one of the earlier links below and amuse yourself with RoxyLogs past. If you're new, then all the more reason you should pick a month and just get started on your new RoxyLog Jones.
Several Kuawarri owners are comparing notes about the amazing new Air Leashes we get with these dogs. Here are some examples of Kuawarri dogs using the amazing new Air Leash.
Ingrid Rosenquist sent me two more Air Leash photos this week, and Linda Jaquish was nice enough to share Dot's photo.
Finn, Kit, Dot and Roxy are all cousins. Do you have to be a Kuawarri dog to use an Air Leash?
Roxy's picture using Jeff's Air Leash is an oldie from a previous RoxyLog, shown at right. Jeff was gracious enough to loan us a prototype Invisible Air Leash for agility practice. You just hold it between thumb and forefinger. Boy, does it catch fish!
Jeff Jaquish (Dot's dad) says he will sell you an Air Leash for $799.99. No guarantee expressed or implied.
And, a picture of Roxy's Mom Twist, showing her Alligator imitation. Not Air Leash related, but still a great photo.
How are the Air Leash dogs related?
Dot

Finn

Kit

CH Kuawarri G'bye Old Paint HS

DC Rewuri Blue Bogong CD VQW

CH Beronganella Flame HS

Kuawarri Bushrider HSAc HXAs STDscd

DC Rewuri Blue Bogong CD VQW

Cattlenip Dunedoo O'merriwood
Roxy

CH Kuawarri Krimson Tate HX

HC George

Happy Heeler Lil' Miss Suzie Q

CH Kuawarri Kewl Chick HSAs

DC Rewuri Blue Bogong CD VQW

HC Kuawarri Munya Beron
Roxy has one dose of Rewuri Blue Bogong, while her cousins Dot, Finn and Kit have two doses. Now, the Australian place name "Bogong" is from an Aboriginal word meaning "high plains". Here's a related web page. Coincidence? I think not.
The Amazing 21st Century Way to "Walk" Your Dog — The Air Leash
No more pulling! Just gently guide your dog as he floats like a Macy's Thanksgiving Balloon!
Veterinarian approved and tested!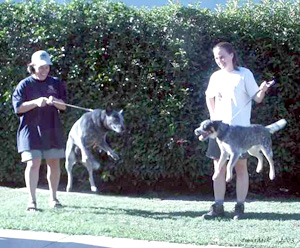 Finn and Ingrid Rebecca and Kit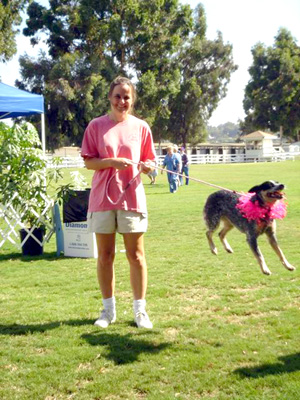 Dr. Rebecca Elder and Kit model the
Fuschia Hawaiian Air Lei
Linda Jaquish and Dot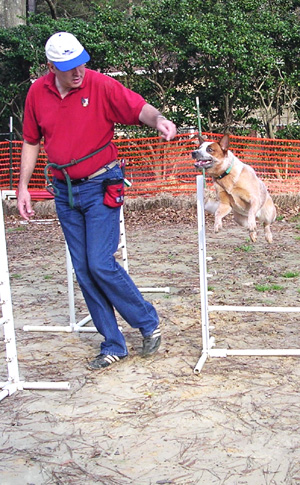 Jim and Roxy and the Invisible Air Leash