Oct 29-31. An agility trial weekend, this time in town. Friday was Excellent only, so Annie and Dylan got to run and Roxy had to hang out and watch. It was devilishly hot for this late in the year. Friday went okay, with another beautiful Excellent JWW performance from Annie for her fourth MXJ leg. Even at 11½, she can still burn up a course. She placed fifth and got 3 more MACH points for being 3 full seconds under course time.

Annie and Jim worked hard Friday to get out the vote (or maybe Jim is just showing off his new line of Day of the Year clothing; buy 366 for the complete set).

Saturday, Annie had a bellyache from some bad treats she scored as part of her jackpot. She had been up all night throwing up and she kept Dylan up as well; Roxy could care less. Annie was slow and poopy all day. Roxy, on the other hand, was quite the agility star. She made a second NA leg on Saturday.

On Sunday, nobody wanted to work. Annie was still slow, and Dylan wasn't sure what Rosemary wanted from him in Standard. Roxy pretty much ripped up the Novice Standard course, forgetting what weave poles are for. Rosemary and I switched dogs in Excellent JWW, and Dylan and I had a pretty good run except for the wrong course I gave him that resulted in an NQ. Annie continued her agility strike with Rosemary, so she got carried off the jumpers course early.

In Novice JWW, Roxy took off like a shot over the first three jumps, but missed the #4 tunnel the first time. I thought we were back on track after the #5 double, but at the #6 weaves she again forgot how to do them. Despite some pretty serious coaching, we could only get the first three poles and then it was getting to be a drag for both of us. On we went, and the second tunnel was also a mystery; after that we decided to run out of the ring. She missed the last turn and ended up underfoot; I flew over her and landed on my knee in the dirt, giving myself a nice strawberry. The sweet girl came back to me and checked to make sure I was okay, instead of running off. Still, no Qs there. It's all right, because even if she had Q'd in Standard I would be holding her back in Novice until she manages to finish a course clean once or twice. Her brain is definitely too sloshy and loose for Open.

Oct 9-10. Another weekend, another agility trial. This time, Roxy went to an AKC trial being put on by an obedience club in Mobile. Unfortunately, Tropical Storm Matthew decided to visit Mobile the same weekend, so things were wet and (on Sunday) windy.

Despite the conditions, there was some fun to be had, although there were ups and downs. On Saturday, Annie and I had an awful opening Excellent JWW run that started off bad and just got worse. Finally, I just had to leave.

Roxy made it better, though. Her standard run (first-ever in 16" Novice B, since I had her in 12" Novice Preferred in earlier AKC trials) was not pretty, but it was a Q with a fourth-place; she had two runouts, both at the open tunnel and the closed tunnel. She never had tunnel trouble before.

Since it was a hideously ugly Q, we selected a hideously ugly toy from the toy box. I don't know how to even begin to describe this lopsided, wheezing, soft-bodied toy, so a photo will have to do.

Sunday morning, we had less rain but more wind. Annie's Excellent Standard run was spot-on, and even though I burned through two or three seconds so that she wouldn't take a wrong course from the table (it was a classic "wrong end of the tunnel" trap), and even though she is an old girl, she still took six seconds off the standard course time. That makes 3 MXJ legs and 2 MX legs for Annie, and she's doubled her MACH point output with six more MACH points. Annie took a 3rd place out of six dogs.

I didn't give Roxy enough exercise, and even though she emptied her bladder before our Standard run, she emptied her bowel out on the course. It wasn't much of a run before that and I was having to work hard to keep her attention with other dogs around. At the point where she decided to turn the ring into a bathroom, she had refused both types of tunnels (just like Saturday), had gone up the dog walk instead of the seesaw, and had launched the seesaw, so in some ways, having her wander off and eliminate herself was kind of a blessing.

Roxy's Novice B JWW run was, not surprisingly, much better. Lucky for us, the course had no tunnels in it. She futzed around in the #2 weave poles, but after we made it through those, she ran like a dog possessed and finished the 90 yard course in 33 seconds. That made her first NAJ leg, with another fourth place.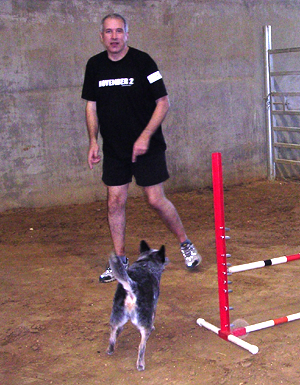 Jim and Annie Get Out the Vote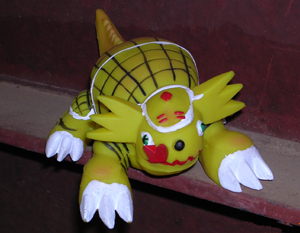 A Fourth-Place Prize: Ugliest Toy on Earth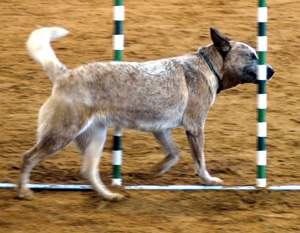 Roxy Knows Weaves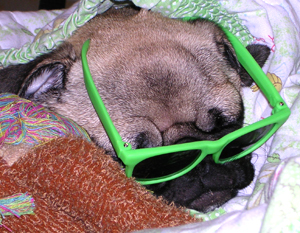 Nori the Pug, Movie Star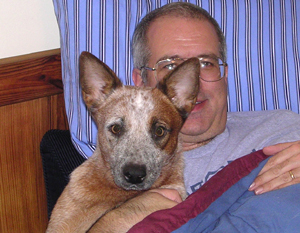 Jim and Roxy Get Caught in Bed Together